Our Son, Boaz
Aug 3, 2015
I'm usually pretty reserved about what I share online with regard to my family life, but the events of the past few weeks have changed who I am in the depths of my heart. It's important to me that the people I know have heard this story.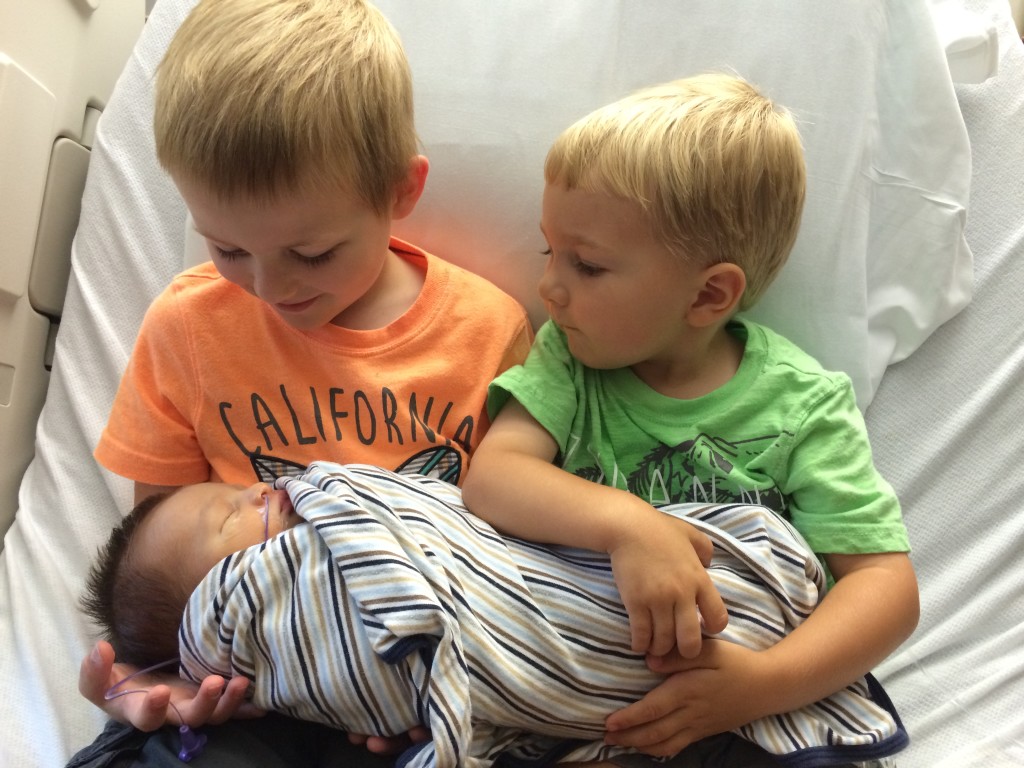 My sons, the oldest two holding the youngest.
Our third son, Boaz, was born on July 16, after my wife's 38-week appointment abruptly turned into overnight observation and emergency cesarean in the early morning hours. Boaz entered the world screaming, to the delight of his nervous father. However, his cries quickly went silent, and the delivery room nurses rushed him to the NICU, where he resumed breathing with the assistance of a respirator.
A few hours later, the NICU team discovered a large clot above his heart, and he was rushed to Dell Children's Hospital to undergo surgery. Upon arrival at Dell, however, it became clear the clot was larger and more pervasive than the doctors originally thought. It was unlikely our son could survive the surgery required to address the clot, so the procedure was not attempted. Unfortunately, as time passed, the clot began to cause secondary consequences to Boaz's body, the most devastating of which, was to his brain. He was placed on medicine to try and manage the clot, but not before significant neurological insults had already occurred. An MRI on the second day of his life showed devastating, global injury to his brain.
Amazingly, the other parts of Boaz's body started showing signs of improvement in the days following the MRI. By the middle part of the next week, Boaz was breathing on his own, and had began receiving sustenance through an NG tube. Eight days after he was born (all of which were spent in the PICU and IMC at Dell), Boaz was discharged and came home with us. However, his prognosis is heartbreaking. The doctors believe we'll have weeks or months with Boaz, but it's unlikely we'll measure his life in years.
As difficult as that seems, it's actually great news for us. After facing the reality of losing our son, an extension on his life, even if brief, is a treasure for us. It gives us a chance to spend time together as a family, doing things that seemed improbable during those dark days at the PICU.
One of the most amazing parts of Boaz's story to date has been the number of people who have been praying for him, and for us. We've stopped trying to estimate, after easily arriving at "thousands," based on the networks of people who have told us about their churches, friends, and families who have also told their churches, friends, and families. We continue to pray for healing, for time, but mostly for God's will. We pray that we would have strength to endure what comes next, and that we would live each day one at a time, not worrying about tomorrow.
Thank you for your love, support and prayers. So many beautiful things have already come of this, and we can't wait to share those stories. We look forward to seeing how God continues to use this precious life for His glory.