Your Newsletter Should Link
November 7, 2012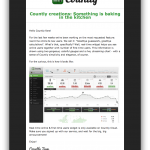 Lately I've been trying to pay close attention to newsletters and marketing materials that catch my eye. There's a very fine line between the emails I immediately throw away and the ones that are effective enough to survive the impulse trash action, and I'd like to better understand why certain things make the cut.
I received an email today from Countly,[1] a company building real-time mobile analytics services. The email was really well done. It was brief but clearly explained some new features, it included a pretty screenshot, and it left me curious to find out more. Excited about checking these guys out again, I searched for the link.
There was no link.
I had to Google them. They have no idea my visit was because of their newsletter.
---
It seems reasonable to not link, since their own newsletter didn't bother, but here you go ↩︎