Restoring Firefox's Icon
October 19, 2022
Firefox recently introduced a redesigned icon to match the other squircles now prominent on macOS. I'm not a fan of this particular design trend, and appreciated that Firefox hadn't given in.
Well, they gave in recently. c'est la vie.
Fortunately, it's pretty easy to change icons for any macOS app. The basic process is:
Acquire the icon you want to use
Locate the app in Finder
Drag the new icon into the Get Info window for the app bundle
Here are a few more details on restoring Firefox's icon.
1. Download the icon you want to use
Since Firefox is an open source project, you can browse the history of the icon file. The icon I prefer was introduced in 2019 in this change.
Here's a direct link to the 2019 icns file. Save this file somewhere convenient.
2. Locate Firefox in Finder
Next, you'll need to find the Firefox app bundle. On my computer, Firefox is located in /Applications, which is where the installer usually puts it. You can navigate to the Applications folder through Finder, or use the dock context menu to have Finder take you straight to it.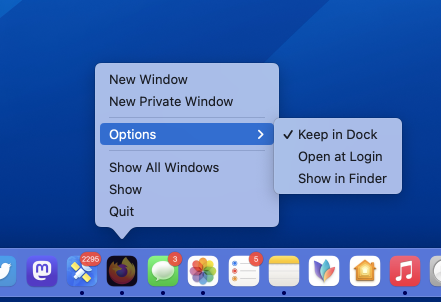 3. Replace the Icon
Now that the Get Info window for Firefox is visible, you can simply drag the new icon into it.
After you've dropped the new icon into place, launch Firefox (or relaunch if it's already running), and bask in the boldness of a defiant icon standing proud in the Dock.
😎